Ända sedan 2012 har Daisy Beauty delat ut Daisy Beauty Awards. Finalisterna har utsetts av Daisy Beautys redaktion i samarbete med läsarna och 60 influencers som sitter i juryn. Bara att bli utsedd till finalist är alltså otroligt svårt och en stor ära! Igår gick galan av stapeln på Södra Teatern i Stockholm. Rachel Molin lotsade publiken genom kvällen med hjälp av flera olika prisutdelare.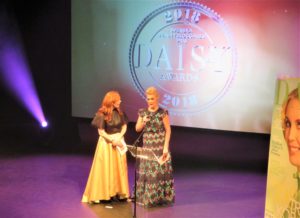 Här är de nominerade och vinnarna i varje kategori:
Årets läsarfavorit
Leegeehaam Vita propolis ampoule
Fenty Beauty Gloss Bomb
L'Oréal Paradise Extatic mascara
Linda Hallberg Core crayons  – Vinnare!
Klairs Gentle deep black cleansing oil
Årets vegankosmetika
Linda Hallberg Flash Crayons – Vinnare
Ofra Cosmetics Glow Goals Highlighter
Maria Nila Gneiss Moulding paste
M Picaut Hydra Lagoon Overnight Mask
Wet n Wild Photo Focus Foundation
Årets läpprodukt
The Body Shop Shine lip liquid
Dior Addict Lip Sugar Scrub
IDUN läppenna
Elizabeth Arden Plush Up Lip Gelato – Vinnare! 
Kiss New York Moisture Tattoo Lip Stain
Årets basmakeup
Sensai Flawless Satin Foundation – Vinnare!
Lumene Nordic Nude Natural glow foundation
Barepro Performance Wear Liquid Foundation SPF 20
Yves Saint Laurent All Hours Liquid Foundation
Maybelline Instant Eraser concealer
Årets ögonmakeup (bryn, fransar och skugga)
L'Oréal Paradise Extatic mascara
Maybelline Tattoo brow peel-off tint
Lancôme Monsieur Big Mascara
Shiseido Ink Stroke eyeliner – Vinnare!
Ardell Faux Mink 812
Årets hårstyling
Babyliss Digital Sensor Styler
Living Proof's Perfect Hair Day In-Shower Styler
Antonio Axu volumizing mousse weightless
Lee Stafford Sea Salt styling mist
R+Co High Dive Moisture + shine – Vinnare!
Årets hårvård
The Body Shop Banana Truly Nourishing Mask – Vinnare!
Björn Axén Organic Moisturizing Gentle Shampoo
Lernberger Stafsing heat protectant spray
Noir Stockholm Essential Leave-in Conditioner
Matrix Total Results Brass Off Shampoo
Årets rengöring
Pixi + Caroline Hirons Double Cleanse
Skinderella Midnight Spell Breaker (Milk Cleanser)
Lancôme Miel-en-Mousse
Garnier Micellar Cleansing Water In Oil
L'Occitane Immortelle Divine Cleansing Balm – Vinnare!
Årets sheetmask
Acasia skincare Life me up sheet mask – Vinnare!
Leaders H2Oh my Gosh
Murad Hydro-glowaqua peel
MASQ+ Bubble mask
St. Tropez Self Tan Express Sheet Mask
Årets herrdoft
Zlatan Ibrahimovic Black Nomad
Calvin Klein Obsessed for men
Boss The Scent Intense for men
Yves Saint Laurent Y
Prada L'homme intense – Vinnare!
Årets damdoft
Linda Landenberg Parfumes Lavender Wool – Vinnare!
Hugo Boss The Scent Intense for her
Zarko Cloud Collection edp
Bvlgari Splendida Jasmin Noir
Jo Malone Red Roses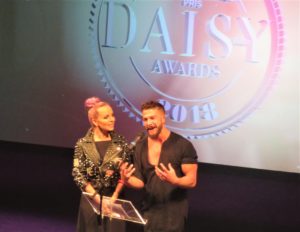 Årets aktiva hudvård
Dior One Essential Skin Boosting Super Serum
Elemis Pro-Collagen Marine Oil
Dermalogica Stress Positive Eye Lift – Vinnare!
Gilda Refining Peeling mask
Reserol Skin Serum
Text och bild – pressmaterial